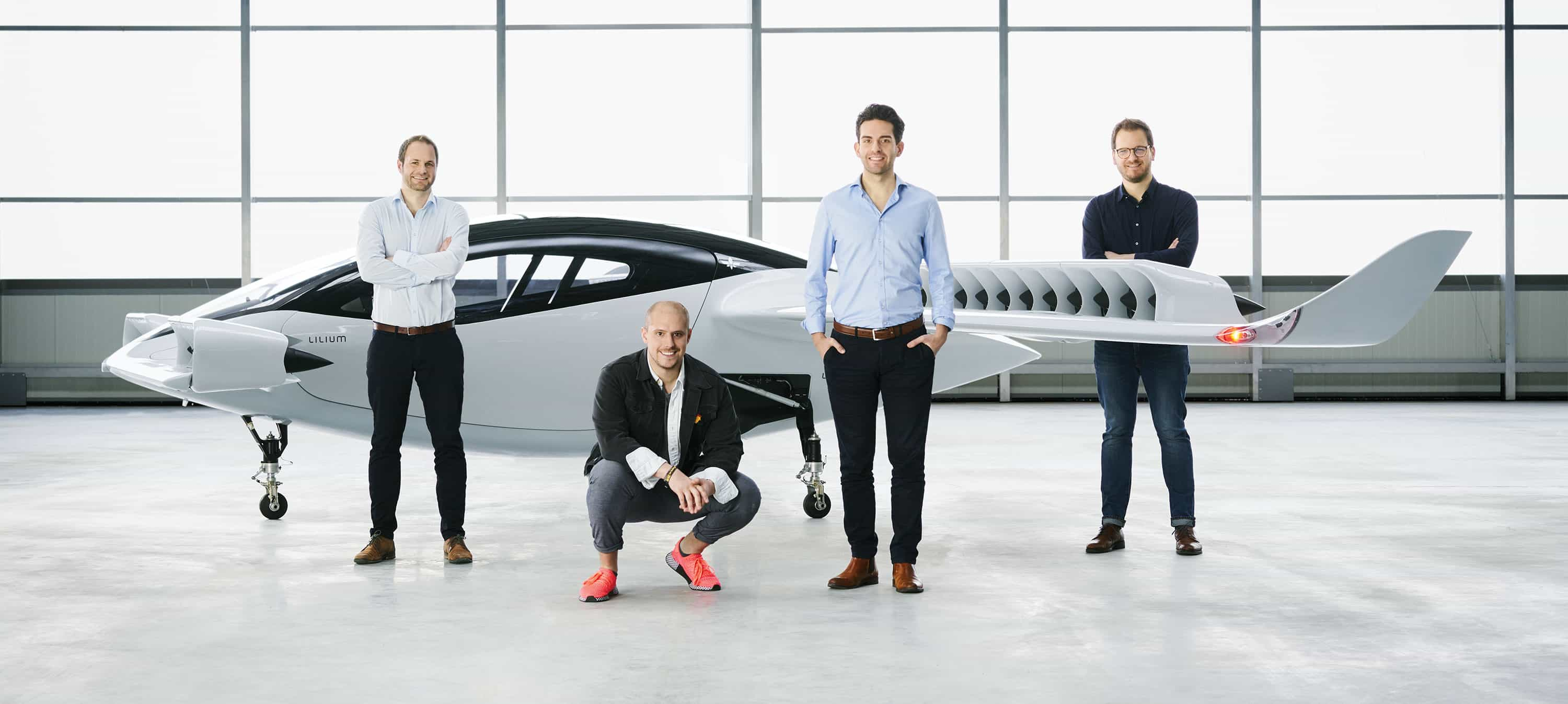 Company
Co-founded in 2015 by Daniel Wiegand, Sebastian Born, Patrick Nathen and Matthias Meiner, Lilium GmbH is based near Munich, ​Germany - an internationally renowned high-tech hub for mobility. The founding team met while studying at the Technical University of Munich where they shared a common vision of revolutionizing the way we travel.
Today, Lilium has attracted more than $375m in funding and employs more than 500 people, bringing together a wealth of experience and expertise from across the world.
Our Leadership Team
Our world-class leadership team consists of experienced professionals from some of the globe's leading companies, as well as exceptional talents who have grown as we have grown. The diversity and strength of the Lilium team is one of our greatest assets and we're proud to introduce some of our leaders below.
Alastair McIntosh
Alastair McIntosh
Alastair joined Lilium from Rolls-Royce with close to 30 years of experience at the multinational aerospace and defence company. Prior to joining Lilium, Alastair led 1,500 engineers at Rolls-Royce Germany as Managing Director and Head of Engineering and Technology.
Remo Gerber
Remo Gerber
Remo has extensive leadership experience in hyper-growth startups, as MD for Western Europe at Gett and as COO Northern Europe at Groupon. Before this he spent four years at McKinsey & Co., having completed a PhD at the University of Oxford.
Anja Maassen van den Brink
Anja Maassen van den Brink
Anja has more than 20 years of experience in defining people and culture strategies for a range of leading retail companies, including Sara Lee International. Most recently she led the people function during the merger of Vodafone and Ziggo in the Netherlands.
Jessica Bryndza
Jessica Bryndza
Jessica is driven by the power of building brands, teams, and cultures. A leader with over two decades of B2B and B2C experience, Jessica has helped redefine the way both startup and Fortune 500 companies like American Express, Google, Uber, Eventbrite, and Softbank develop brand marketing strategies and global campaigns.
Dirk Gebser
Dirk Gebser
In his previous role as VP Industrial at Airbus he led the assembly of the A380 and A320 aircraft. Prior to that he was SVP of an Airbus composite division, delivering more than 1,000 composite structure parts each day. Dirk also worked at aerospace giant Rolls-Royce as Director of Manufacturing Engineering.
Yves Yemsi
Yves Yemsi
An Airbus veteran with over 15 years of experience at the company, Yves was most recently Senior Vice President and led Procurement for their Defence and Space division. Prior to this he was the Head of Program Quality for the highly successful Airbus A350 aircraft.
Tassilo Wanner
Tassilo Wanner
Having served in a variety of different executive staff positions within the German Federal Government, Tassilo subsequently spent five years at McKinsey & Co., where he led client engagements in the travel, transport and logistics sector.
Brian Phillipson
Brian Phillipson
Over a distinguished career Brian has provided senior leadership across a remarkable list of high-profile engineering projects, from submarines to fighter jets. He has held roles as Engineering Director at Marshall Aerospace Group, as a Group Managing Director at BAE Systems and as CEO for the Eurofighter project.
Geoffrey Richardson
Geoffrey Richardson
Geoffrey brings with him over 20 years of proven expertise in international finance, M&A, fundraising and operations including leadership roles at Morgan Stanley and Goldman Sachs. Prior to Lilium, Geoffrey was the CFO of the autonomous car company Cruise where he raised billions of dollars in funding.
Lionel Wallace
Lionel Wallace
With nearly four decades of experience in the aviation industry, Lionel has worked in quality, airworthiness and certification positions for a range of blue-chip industry companies including BAE Systems and Raytheon. He also has extensive experience in international aviation regulation.
Luca Benassi
Luca Benassi
After spending 7 years as a Research Engineer with NASA in California, Luca went on to work with both Boeing and Airbus, spending 11 years at the latter company, most recently as a Senior Expert and Head of Domain in their Defence and Space division.
Audrey Tauran
Audrey Tauran
Audrey has more than 15 years of international aerospace experience, joining Lilium from Airbus Defence and Space where she was leading the Structure and Material procurement function. Prior to aviation, she worked as supply chain systems expert for Motorola and EY.
Will Earle
Will Earle
Prior to joining Lilium, Will spent 3 years at European ride-hailing business Gett working across fundraising, M&A and operations. He has an impressive background of working across corporate development, operations and strategy at challenging and fast-paced mobility scale-ups.
Meredith Bell
Meredith Bell
A specialist in global and multi-market communications, Meredith's experience spans 15 years and 3 continents including leading EMEA Communications for Starbucks and Global Communications for Accor-owned onefinestay. Prior to joining Lilium Meredith was Global Head of Communications for Swiss-born On.
Yann de Vries
Yann de Vries
Formerly a Partner at Atomico, Yann led their Series A investment in Lilium in 2016 and has worked closely with the company ever since. He has more than 20 years of experience in the tech sector, including five years as Head of Corporate Development for Cisco across EMEA and Latin America.
Peter Seidel
Peter Seidel
Peter has spent the past two decades at BMW where he was most recently Vice President with global responsibility for shop floor systems and IT across EMEA. Prior to BMW, Peter worked as a consultant in the financial services industry. He holds a Masters degree in Business Administration.
Dominique Decard
Dominique Decard
Dominique is an aviation industry veteran with over 15 years' experience. His expertise includes the transformation, restructuring and establishment of new airlines in multi-national organisations such as Thomas Cook Airlines. He was most recently Director of Transformation and Strategy at German charter airline Condor.
Lauren Zwierlein
Lauren Zwierlein
Lauren is a Chartered Accountant, with experience of working for firms across the USA, UK and Germany. She began her career working for a large professional services firm in Melbourne, Australia.
Rochus Mönter
Rochus Mönter
In his previous role Rochus oversaw a wide range of strategic projects as VP Finance & Lease at Airbus. Prior to this he worked as General Counsel and Managing Director of Bavaria International Aircraft Leasing. He holds law degrees from University of Bonn and University of California.
Timeline
2015
Founding year
Lilium founded by 4 co-founders. First 1:2 prototype takes off.
2016
Funding round Series A
Lilium secures $10 million funding.
2017
Flight of the first full-scale prototype
The 2-seater full-scale prototype takes off.
2017
Funding round Series B
Lilium secures $90 million funding.
2019
First flight
The 5-seater Lilium Jet takes off.
2020
Funding round
Lilium secures $275 million funding.
2025
Fully Operational
Available to the public in various cities around the world.
Our Investors
Atomico partners with game-changing tech founders building global-category winners out of Europe, leveraging deep operational experience to supercharge their growth. Founded in 2006, Atomico has partnered with over 75 ambitious teams - including those at Supercell, Klarna, Lilium, and The Climate Corporation. Atomico's team of investors and advisors includes founders of four billion dollar companies, and operational leaders who were responsible for global expansion, hiring and marketing at companies from Skype and Google to Uber and Spotify.

Baillie Gifford is an independent investment partnership founded in Scotland in 1908. The firm focuses on long-term growth investing in some of the world's most exciting companies. With 1,317 staff and assets under management of £198 billion, with offices in Edinburgh, London, New York, Hong Kong, Shanghai, Dublin, Zurich, Frankfurt, Toronto, Buenos Aires and Krakow.

Freigeist is a privately-owned investment firm working with visionary founders to fund and build disruptive technology companies. The firm is best known for its seed investments in Wunderlist (acquired by Microsoft), MyTaxi (acquired by Daimler) and KaufDa (acquired by Axel Springer). The current portfolio includes tech companies such as Lilium, Kraftblock, Neufund, Xentral, Pitch and Scanbot. Freigeist's team of experienced founders consists of Frank Thelen, Marc Sieberger, Alex Koch, Marcel Vogler and Niklas Hebborn. The firm specializes in identifying and actively supporting extraordinary startup teams at an early stage, often even before their companies are founded.
LGT is the largest Private Banking and Asset Management group in the world that is wholly owned and managed by an entrepreneurial family - the Princely House of Liechtenstein. As the family office of the Princely Family, LGT has comprehensive experience in managing sizeable family assets. This expertise also serves as the basis for its collaboration with clients. LGT combines tried-and-tested private banking and asset management services with a supplemental offering that is tailored to these services, such as impact investing and philanthropy.
With over $300M under management, Obvious Ventures has partnered with over 50 world positive entrepreneurs building disruptive solutions to systemic challenges. The Obvious team brings entrepreneurial experience as well as capital to startups combining profit and purpose for a smarter, healthier, and more sustainable world.

Tencent uses technology to enrich the lives of Internet users. Its social products Weixin and QQ link its users to a rich digital content catalogue including games, video, music and books. Its proprietary targeting technology helps advertisers reach out to hundreds of millions of consumers in China. Its infrastructure services including payment, security, cloud and artificial intelligence create differentiated offerings and support our partners' business growth. Tencent invests heavily in people and innovation, enabling us to evolve with the Internet. Tencent was founded in Shenzhen, China, in 1998. Shares of Tencent (00700.HK) are traded on the Main Board of the Stock Exchange of Hong Kong.
Awards